Waterfront
Nestled along the shores of the Broad Bay section of Lake Ossipee, with breathtaking sunsets over the Ossipee Mountains, our waterfront activities can begin every day at 7:00am with an optional island swim, fishing, or waterski and can end each day with campers enjoying an evening boat ride, taking a pajama jump off of our diving tower, or playing a game of greasy watermelon in our swimming area.
With nearly one mile of waterfront on the beautiful Lake Ossipee, our campers are able to take part in a wide variety of watersports and beachside activities. Whether it's taking a kayak or canoe out for a leisurely ride, setting sail on one of our sailboats, water skiing or wakeboarding with our trained staff, bouncing around on our inflatable waterpark, or enjoying a s'mores cookout on the beach at sunset, our campers can always find something fun at the waterfront.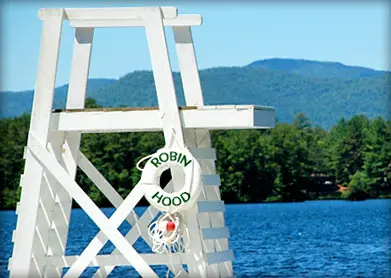 Swim Instruction
We consider swim instruction to be an integral part of our program. Our certified instructors cater to all swim levels, emphasizing proper technique and stroke development. Campers then use those skills during free swim where they can splash around with their bunkmates, jump off our many towers or dive off the docks.
Lifeguarding
For our older campers thinking about school-year jobs or just interested in water safety, we offer a course in lifeguarding taught by our certified lifeguards.
Boating
We have four motorboats that are gassed up and ready to go every day of the summer. Our drivers and instructors have years of experience, and will have your children skiing, boarding, or tubing around the lake with confidence. Camp Robin Hood also has 2 pontoons where the campers enjoy banana boating and trips to the main lake.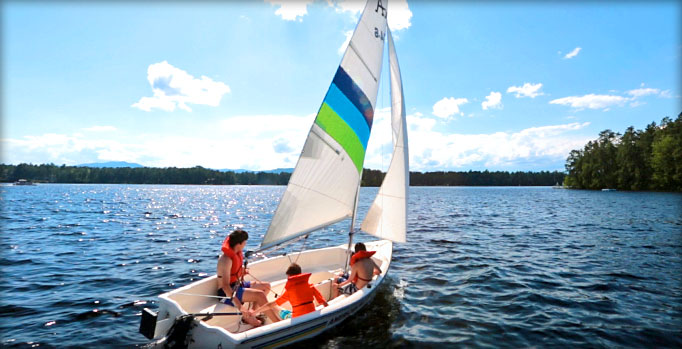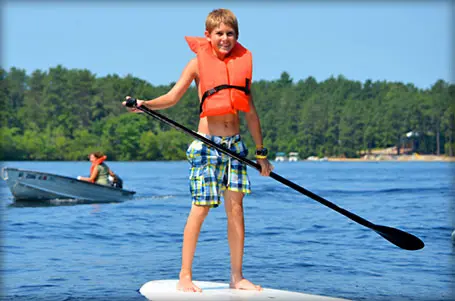 Yacht Club
We offer both Sunfish and Zest sailboats, as well as plenty of canoes and kayaks for our campers to explore our beautiful lake. There are ample paddle boards that allow for single or double riders, including motherships where 8 paddlers can cruise the cove. Finally, you will see 3 pedal boats coasting the waters. All of these small craft opportunities enhance the campers' experience on our shores.
Water Park
On the opposite shore lies what the campers refer to as "Senior Waterfront". There, they don a lifejacket and bounce around on our many inflatables. From trampolines to obstacle courses, there is always laughter echoing throughout the inlet as the campers hop from one inflatable to the next.