Dates, Rates & FAQs
2021 Season
First Session*
Wednesday, June 23, 2021 - Sunday, July 18, 2021
Tuition: $8,400 (plus $500 canteen fee)
*First Session is only available for campers ages 12 and under. Limited spaces available.
Full Session
Wednesday, June 23, 2021 - Monday, August 9, 2021
Tuition: $12,200 (plus $800 canteen fee)
Parents Visiting Day
Saturday, July 17, 2021
Enroll Now
*Tuition Notes
Tuition includes laundry and medications regularly carried in our Infirmary.
Tuition includes everything but Horse Back Riding which is optional, Airport Transportation and Out-Of-Camp Activity Fee. More information on each of these options will be sent separately.
Out-of-camp medical services and special prescriptions are not included in the tuition, and will be charged to the credit card on file at time expense is incurred. Every family is required to have a credit card on file. Out of camp expenses (i.e. prescriptions, special birthday requests) will be charged to the credit card at the time costs are incurred.
Discount & Payment Notes
Sibling discounts are 10% for 2nd child and 15% for 3rd child. Sibling discounts are only applicable if at least one of the campers is enrolled for Full Session.
First Session requires a $3750 deposit at time of enrollment, $2000 due on January 15, 2021, Final payments due on April 1, 2021.
Full Sessions requires a $4500 deposit at time of enrollment, $2500 due on January 15, 2021, Final payments due on April 1, 2021.
Tuition can be refunded (less a $100 processing fee) until February 1, 2021, after which time tuition is non-refundable.


Frequently Asked Questions
CARE PACKAGES – Robin Hood has a no package policy; we do not allow food in the cabins and believe we provide enough for your children to do; we also strive to be environmentally conscious. Of course, we do allow clothes, books and other necessary items to be shipped to camp. All packages are opened in the office in the presence of your child and a secretary.
PHONE – while Woody is available each evening (and during the day in an emergency) to speak with you, campers are discouraged from speaking to their parents in the first two weeks (birthdays and anniversaries are exceptions); this allows your child to focus on camp. We allow one call/per session after the first two weeks. Calls are scheduled with the office and not allowed during activity periods.
INFIRMARY – Robin Hood's Infirmary is staffed with trained medical staff. Clinic Hours are after breakfast, lunch and dinner; medications are distributed at meals per the Health Forms completed before camp and pre-packaged by PACK MY RX. We have a relationship with Memorial Hospital in N.Conway.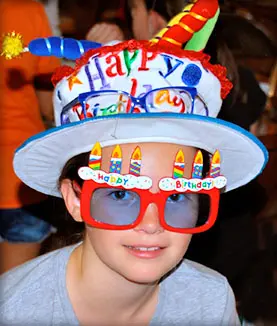 BIRTHDAYS (at camp) - are always a time for a cake and a parade with Happy Birthday sung by the entire camp. If you would like to do something additional for your child, you may request Dunkin Donuts at wake-up, an ice-cream trip to the Cozy Corner or a Pizza Barn pizza party at your expense
FOOD – Healthy and Tasty are the words used by our campers to describe our food. Jamie sets the menu and treats your children as she does ours. no sugared cereal, no whole milk, and snack in the afternoon is fruit. We only have one desert a day only - either lunch or dinner.
Breakfast finds fruit, granola and yogurt at the salad bar, 4 cold cereals and oatmeal and an entrée like Pancakes, French Toast or eggs. Lunch will have an entrée, a gigantic salad bar with toppings, tuna salad, egg salad and chicken salad and soy butter and jelly (remember, we are peanut-free). Dinner brings a larger entrée and a smaller salad bar, a pasta alternative and soy butter and jelly.
Fruit is available all day.
Plenty of variety leaves no one hungry at Robin Hood.
BOY-GIRL INTERACTION – we believe activities and sports are meant to be single gender (Intensives can be an exception) so most of the day is spent with friends from your child's group. Boys and Girls may interact at Rest Hour in our 'Quad' (as they are not allowed in each other's camps) in a relaxed, supervised atmosphere. Our 15 and 16 year olds have opportunities for supervised time together in the evenings.
As parents of daughters, we believe in a healthy amount of 'boy-girl' interaction, while the main focuses are the activities and their fellow campers in their groups.
UNIFORMS – we are NOT a Uniform camp and place no emphasis on clothes; in fact, we recommend simple, plain clothes. Hair-dryers and make-up are not allowed; we do require a Robin Hood shirt for Inter-Camp competition and when leaving camp.
CAMPER POPULATION – part of what makes our culture unique is our geographical diversity; while the bulk of our campers are from the Northeast, we attract many, many campers from the mid-west. We also attract campers from Colorado, California, Florida and the Beltway. We have international campers from as close as Canada and as far away as Spain.
COMPETITION – while instruction and good values are emphasized, we do not shy away from competition and believe it is an important part of a child's development. We offer as much competition as a child wants. We compete with fellow camps in the Lakes Region in every sport and most activities. We also offer unique opportunities for competition such as USTA Tennis Tournaments in Portland, ME.