Facilities
Here at Robin Hood we feel that we have a special responsibility to preserve our history and traditions while continuing to develop and grow with the needs of our modern camp community. Our dining hall, theater, and every one of our bunks have been thoroughly renovated and redesigned within the past ten years. We've replaced all of our bathrooms, showers, beds and lights. Amidst all of this development, we're proud that our main camp lodge has been standing untouched since our very first summer in 1927.
We're committed to providing our campers with a truly exceptional summer experience, and that means providing our campers with truly exceptional facilities and living accommodations.
Bunks
Our bunks, which have been carefully restored and updated within the past 8 years, are designed as open, communal living spaces in which our campers can interact freely and easily with one another. In addition to our open layout, all of our bunks contain a meeting area in which our campers and counselors can get together for group discussions and indoor activities. We have built 3 brand new cabins in the last 4 years. A few of our bunks even have their own indoor basketball courts! All of our bunks have their own private bathrooms, 20 out of 22 bunks have their own showers. Bunks that don't have their own showers are located just a few short steps away from a separate shower facility.
Athletic Facilities
Campers at Robin Hood have access to a wide array of both indoor and outdoor athletic facilities, including six all-weather tennis courts, three football fields, five soccer fields, three softball diamonds, four outdoor basketball courts (two of which are lighted for nighttime activities), 2 indoor basketball courts, four volleyball courts (including lighted grass and sand courts), a street hockey rink, as well as lacrosse, field hockey, and team handball fields. In addition to these athletic fields and facilities, Robin Hood is proud to offer our campers access to a four-ring, thirteen-horse stable, a fully-equipped gymnastics center, archery and riflery ranges, dance studio and brand new weight and spinning rooms.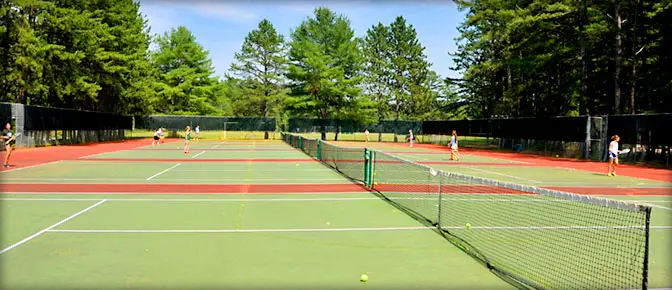 Arts Center
We've stocked our Arts and Crafts Cabin with all of the materials necessary for our campers to express their creativity through painting, drawing, beading and bracelet making, tie-dyeing, and ceramics. We're even more excited about some of the less conventional options our campers can explore under the guidance of our expert staff, such as candle-making, pillow-making, wood-working, and glass etching! Campers also have the opportunity to use the pottery wheel in our Ceramics Studio to create bowls, plates, and free-form sculptures. The Arts and Crafts program is also excited to offer campers access to our fully functioning Woodshop, where they can design and build a variety of items.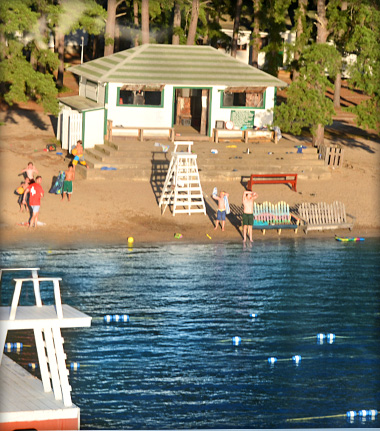 Waterfront
Lake Ossipee is one of the most beautiful lakes in New England, and we're thrilled to have nearly one mile of waterfront to offer our campers. Our fleet of canoes, kayaks, and sailboats is available to all of our campers all summer long, and our motor boats are always gassed up and ready to take our kids out water-skiing, knee-boarding, wakeboarding, and tubing. Our swimming area is perfect for both instructional and recreational swimming under the guidance of our certified lifeguards and swim instructors. And when our campers are done boating and swimming, they can enjoy the waterfront with a sunset barbecue on the beach.
Performing Arts Theater
Our recently renovated, 500-seat playhouse and theater is equipped with a state-of-the-art sound system, lighting system, and stage equipment. Whether it's for one of our dramatic productions, musical productions, or talent shows, this new space allows our campers to truly shine.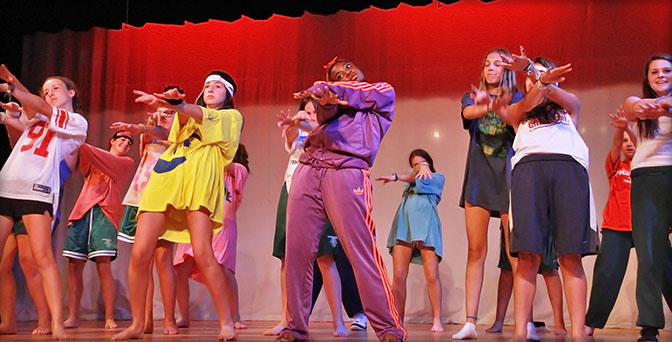 Dining Hall
There's one building that all of our campers are in every day, and that's our brand-new Dining Hall. The Dining Hall is more than just a place for our campers to eat and refuel for their daily activities, it's a place where we come together as full camp community to sing, cheer, and enjoy each other's company. Our professional kitchen staff whips up three delicious and nutritious meals for our campers every day, including a salad bar filled with all sorts of fruits, vegetables, and toppings. Robin Hood is a peanut-free camp, and our kitchen staff takes every step necessary to provide for campers with a variety of dietary allergies and restrictions.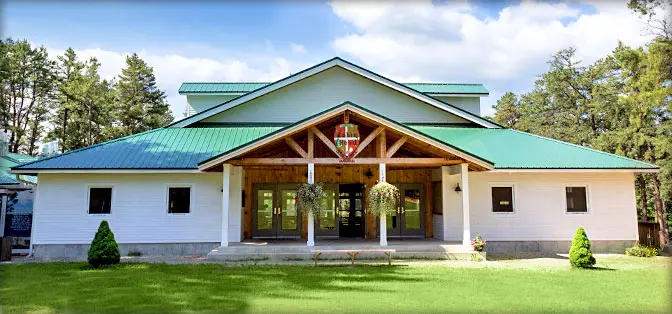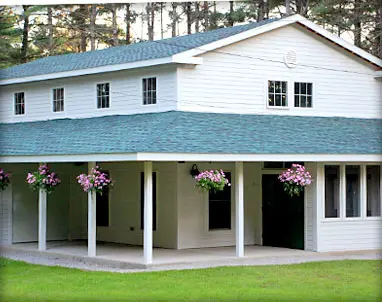 Lodge
The bulk of our daily activities at Camp Robin Hood are outdoor and very active. Occasionally, though, it does rain, and our campers need time to unwind inside. On days like these, we provide some of our campers access to our beautiful multimedia cabin, which features a movie screen and surround sound.
Cleaning Services
At Camp Robin Hood we encourage our campers to take responsibility for maintaining their living spaces, as well as the communal outdoor spaces they share with their fellow campers. At the same time, we understand that even with the best intentions, things at camp can sometimes get messy. In order to ensure our campers are able to enjoy our camp to the fullest, we employ a four person cleaning crew that cleans every shower and bathroom in camp every day. Each week our campers drop off their dirty laundry, which is cleaned, folded, and returned to them promptly.
Health Center
Our Health Center at Robin Hood is staffed by trained medical staff. Our medical staff treat all of our campers with the utmost attention and care. Robin Hood is just a 15-20 minute ride by ambulance to the closest hospital, Memorial Hospital located in North Conway, NH.
Off-Camp Facilities
Our camp's location in New Hampshire means that our campers have access to wonderful nearby facilities and parks. We're just a short trip from the hiking trails and campgrounds in New Hampshire's White Mountain National Forest and a chain of waterways for canoe and sailing trips. Campers also have access to a local ice hockey and figure skating rink. Portland, Maine and its beautiful beaches are only a one-hour drive from camp.