Our Program
Daily Schedule

A typical day at Camp Robin involves five distinct Activity Periods. Three of these are elective periods where campers participate in activities they've chosen for themselves; two periods are non-elective periods, which are activities such as team sports clinics and instructional swimming lessons that the whole group participates in together. Campers may also choose an intensive which can be athletic or non-athletic. These are designed for more advanced or specific instruction and are held weekly.
We believe it's important for all of our campers to develop new skills and interests over the course of the summer. That said, if a child has a strong interest in a particular sport or activity, we will regularly allow them to substitute one activity period for another. This is particularly common for campers interested in more specialized or individual activities such as riding or gymnastics. We also work with campers looking for extra practice time in our team sports programs.
Athletics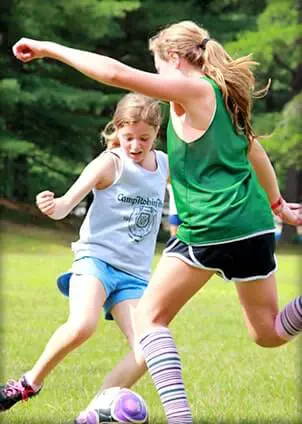 At Camp Robin Hood, we pride ourselves on our ability to provide positive experiences for campers of diverse athletic interests, needs, and abilities. For the team-oriented, athletic-minded camper, we offer inter-camp athletics in all sports at a variety of age levels. Campers that are more interested in less competitive athletics will find it easy to engage and participate in activities all around camp. We have worked hard to create a culture in which our campers can feel comfortable participating in both activities that they know and activities that might be new to them. Our specialty instructors at Robin Hood are not professional coaches—they are extremely talented high school and collegiate athletes who understand that the Robin Hood experience is about becoming a better person, a better friend, and a better athlete. General counselors are on hand at all activities to make sure all of our campers are having a fun and fulfilling time.

Hiking & Trips
We believe part of the reason children spend their summer in New England is to take advantage of all this beautiful region has to offer. Located in the picturesque White Mountains, Camp Robin Hood is perfectly situated to offer our campers overnight camping trips under starry skies, rafting and canoeing trips on the many lakes that surround us and hiking mountain trails ranging from Green Mountain for our younger climbers to Mount Washington and Kathadin for our seasoned hikers.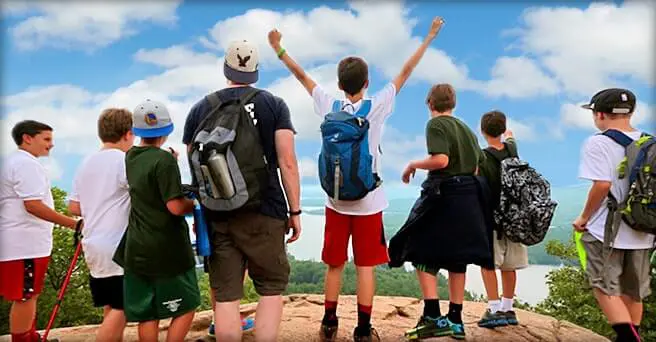 Waterfront
Nestled along the shores of the Broad Bay section of Lake Ossipee, with breathtaking sunsets over the Ossipee Mountains, our water front activities begin every day at 7:00am with an optional swim, and end each day with campers enjoying an evening boat ride, taking a pajama jump off of our diving tower, or playing a game of greased watermelon in our swimming area.
With nearly one mile of waterfront on the beautiful Lake Ossipee, our campers are able to take part in a wide variety of watersports and beachside activities. Whether it's taking a kayak or canoe out for leisurely ride, setting sail on one of our sailboats, waterskiing or wakeboarding with our trained staff, or enjoying a s'mores cookout on the beach at sunset, our campers can always find something fun at the waterfront.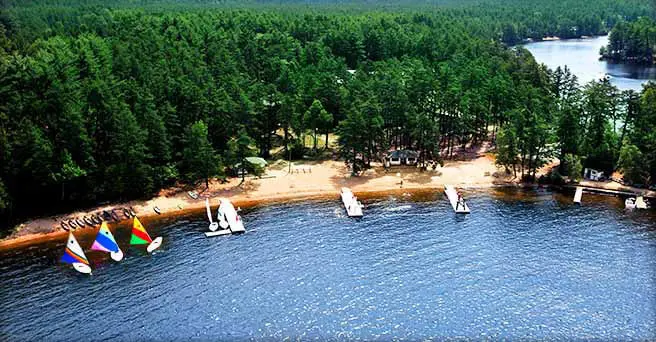 Intensives
For campers interested in developing more advanced and specialized athletic skills, particularly those campers looking to compete athletically during the school year, we offer weekly Intensives led by our most experienced and talented instructors. For example, our volleyball Intensives are run by two Division I college athletes, and our soccer Intensives by highly-trained European players and youth coaches.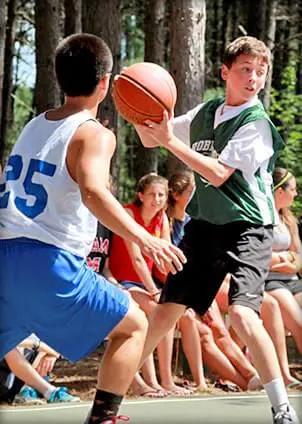 In addition to our Intensives Program, we offer optional Strength and Conditioning classes every week. These include a Speed & Agility class, Core Strengthening, and Yoga. We also have staff on hand to monitor and supervise specific workouts our campers sometimes bring to camp from their athletic coaches at home, including specific forms of weight training and swimming.
Our Intensive Program is not limited to athletics. We have offered Intensives in Painting and Drawing, in which a camp mom who is an accomplished artist worked with our campers to plan and paint a Camp Robin Hood mural, Woodworking, in which campers assisted in the construction of new benches and bleachers, and Theater, which included improvisation and audition workshops.
Arts and Crafts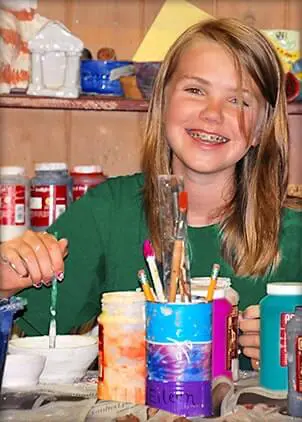 We've stocked our Arts and Crafts Cabin with all of the materials necessary for our campers to express their creativity through painting, drawing, beading and bracelet making, tie-dyeing, and ceramics. We're even more excited about some of the less conventional options our campers can explore under the guidance of our expert staff, such as candle-making, pillow-making, wood-working, and glass etching! Campers also have the opportunity to use the pottery wheel in our Ceramics Studio to create bowls, plates, and free-form sculptures. The Arts and Crafts program is also excited to offer campers access to our fully functioning Woodshop, where they can design and build a variety of items.
Inter-Camp Athletics
Campers who enjoy competition will have the opportunity to participate in numerous inter-camp athletic events over the course the summer. Camp Robin Hood is proud to be a member of the distinguished Lakes Region of Camps, and to compete against our fellow Lakes Region camps in a variety of sports and activities.
Special Events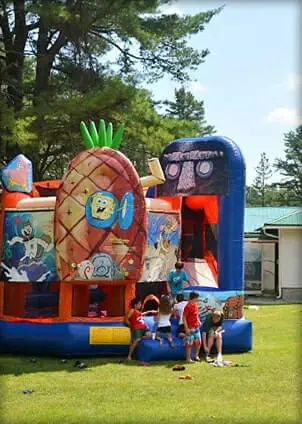 Every day at Robin Hood brings a new adventure and experience. There a few days, though, which are particularly special for our campers:
Beach Day – A favorite of campers and staff alike, every year the entire camp travels to Ogunquit Beach in Maine to take in some rays, swim in the ocean, play sports on the beach, and eat out on the boardwalk.
July 4th – Every summer we celebrate the founding of our nation with an outdoor carnival including festive food, moon-bounces, water-slides, and more. After dinner, our whole camp comes together for an all-camp activity before heading over to the lake to watch fireworks—courtesy of our friends across the lake at Camp Huckins.
15 & Under Boys Basketball Game in the "House" – Every summer our boys travel to the "House"—the indoor gym of our rival West End Boys Camp—to play in a five-on-five basketball game. Before the team makes the trip, our entire camp cheers them on in a classic pep-rally held in our Dining Hall. What makes the game really special is that our entire senior camp travels with the team to West End—faces painted, signs made, and ready to represent Robin Hood and cheer their friends to victory!
Excursions – Each group takes an end-of-summer trip we call "excursions" to bond with their friends outside of the camp environment. We take trips to local water parks, Cape Cod, the Ben & Jerry's ice-cream factory in Vermont, and even Fenway Park in Boston.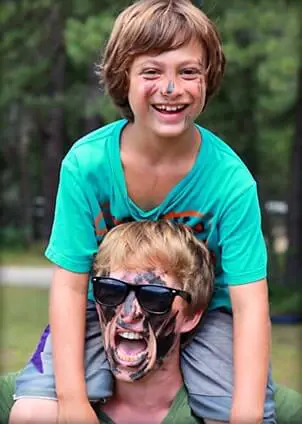 Green & White – The highlight of the summer, Robin Hood's "Green & White" is a remarkable five-day all-camp Color War. Every summer our campers try to guess the way that Green & White will begin (or "break"), and every summer we find new ways to surprise them—think early-morning helicopter landings and professional drum-lines. We pick four captains from our most experienced and well-respected staff, select teams, and then it's five full days of competition and fun. Our esteemed "judges,"—Camp Robin Hood alumni who served as Green & White captains in the past—referee all of our events. The competition, however, is not only athletic. At Robin Hood, we want each child to shine and have their moment in the sun – there are points for Drama, Singing, Nature, Arts & Crafts, Woodshop, Spelling, Geography and countless other areas.
Summer Surprises – We like to surprise our campers every now and then with something special. A few years ago we woke our campers up early with a donut breakfast and took them to a private morning screening of the final Harry Potter film at the local movie theater. We've got some things planned for this summer, but we can't tell you what they are just yet…