2020 Lacrosse Camp
Monday, August 10 - Friday, August 14, 2020
Boys & Girls (Rising 4th-9th grades)
Early Bird Pricing: $995 (Enroll by March 15th)
Enroll Now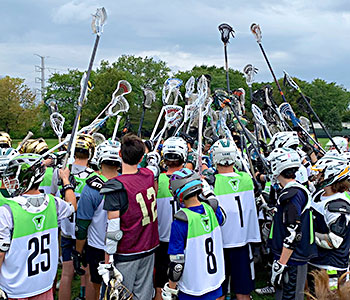 Offering experienced lacrosse players a unique opportunity to take advantage of the BEST OF BOTH WORLDS:
Robin Hood Lacrosse Camp is a unique five-day camp for experienced lacrosse players that are looking to develop on the field and have a once in a lifetime experience off it. Combining the traditional summer camp—waterfront activities, hiking, art & crafts, team sports, tennis and archery amongst others—with a fun, robust lacrosse experience. Hone your skills and lacrosse IQ, while taking advantage of countless camp activities on a daily basis. Importantly, unplug from technology, connect with the people around you and enjoy the beautiful nature that surrounds Camp Robin Hood!
High-level Lacrosse Training Combined with a Premier New England Summer Camp Experience
Kids will be "Screen Free" Throughout Camp—No Cell Phones, iPads or Electronics Allowed
Bus Transportation from Boston and Tri-State Area and Possibility of Chaperoned Flights from Major Cities
Minimum of 12 Hours of Lacrosse Training & Games
Cross-Sport Training Opportunities
One Mile of Lakefront Access for Watersports and Daily Campfires
180 acres to explore and discover over 50 activities, including court and field sports, arts and crafts, drama, riflery and more!
Separate Accommodations for Boys & Girls, Same Great Experience
All Inclusive Tuition: Accommodations (including linens), Meals, Coaching, Bus Transportation, Reversable Camp Pinnie & Dri-Fit Shirt, ALL CAMP ACTIVITIES!!
Meet Your Director of Lacrosse, Peter Murphy:
Senior Director & National Team Coach for True Lacrosse, Head Coach at The Latin School of Chicago and Founder of LiL' Ballers Lacrosse.
University of North Carolina at Chapel Hill: Team captain, Freshman of the Year, All-ACC and All-American honors. Ranked #3 all-time in takeaways at UNC.
Garden City High School: 2x All-American and 2x Nassau County Defenseman of the Year, GCHS Sports Hall of Fame.
Coaching experience of ~25 years and across 5 sports, coupled with a belief in multi-sport athletes and well-rounded individuals, makes him the ideal person to lead the Robin Hood Lacrosse Camp.
A Day in the Life at Robin Hood Lacrosse Camp
7:30am-8:00am: Morning Cardio
8:00am-8:30am: AM Breakfast - Fuel for the day
8:45am-10:45am: Land-based Camp Activities
11:00am-12:15pm: Waterfront Camp Activities
12:15pm-1:00pm: Lunch/Swimming at the Lake
1:00pm-2:30pm: Lacrosse: Skills and Drills
2:30pm-2:45pm: Snack Break
2:45pm-4:15pm: Camp Activities/Afternoon Hike/Canoe Trip
4:30pm-6:00pm: Lacrosse: Games & Small-Ball
6:00pm-6:45pm: Dinner at the Dining Hall
6:45pm-7:30pm: Competition of the Night
7:30pm-8:15pm: Bonfire & Coach Talk at the Lake
8:15pm-8:30pm: Back to the Bunks
9:00pm: Lights Out