Semester at Camp 2020
September 13th - October 18th, 2020
5 Week Session • Open to All Girls & Boys • Grades 6-11
$9,000 *including testing & supplies
New Families
New families can enroll for camp by establishing a CampInTouch account and filling out our Camper Application.
Enroll Now
Current Families
If you have a CampInTouch account, login here to enroll your returning camper or a new camper sibling.
Login
Do your REMOTE SCHOOLING FROM CAMP this semester!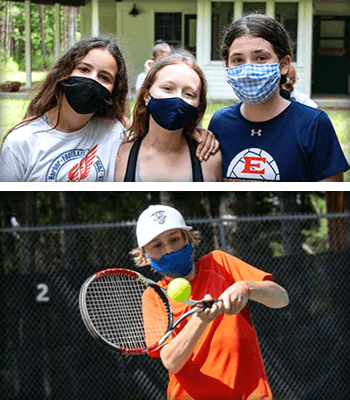 Covid is forcing many schools to continue remote learning in the fall. With proper screening, quarantining, testing and diligence Camp Robin Hood has kept our community safe in a protective bubble. We have the opportunity to continue what we started this summer over the course of the fall in what we call Robin Hood's Semester at Camp.
If teens are being taught virtually this fall why not have them learn virtually from their happy place – CAMP - and not from their dining room tables? We would like to offer a safe space for kids to learn and also to spend time with their friends and to take advantage of all that our facility has to offer.
Semester at Camp will be following all safety and health protocols from local/state officials plus our medical staff will be on hand to implement our additional screenings.
Program Highlights:
Instruction and work online from 9am - 3pm, Monday - Friday (or however long it takes to get their homework/campwork done!)
Daily scheduled camp activities
Special events and social time
Camp fun all weekend until class starts again on Monday morning.
Bunks staffed by our regular camp staff with a 10-1 ratio
Enhanced wifi and plenty of workspace
Camp staff will hold campers accountable for being present in class, staying on task, and completing schoolwork (but not for reviewing or enhancing the work).
Your child's school will supply the academic part of your child's experience and we will provide the social, emotional, and physical side of their experience.
All Inclusive Tuition: Accommodations, Meals, Testing, Supplies, ALL CAMP ACTIVITIES!