Enroll at Camp Robin Hood
2022 Enrollment
New Families
New families can enroll for camp by establishing a CampInTouch account and filling out our Camper Application.
Enroll Now
Current Families
If you have a CampInTouch account, login here to enroll your returning camper or a new camper sibling.
Login
Most groups are at capacity for 2022 please call for information about our waitlist - 312-404-1828 - or email woody@camprobinhood.com
2022 Dates & Rates
First Session*
Friday, June 24, 2022 - Sunday, July 24, 2022
Tuition: $8,800 (plus $600 canteen fee)
* First Session is only available for campers ages 12 and under. Limited spaces available.
Full Session*
Friday, June 24, 2022 - Tuesday, August 9, 2022
Tuition: $12,900 (plus $800 canteen fee)
* Campers 13 years old and up must stay for Full Session unless they are a new camper.
Dates and rates are subject to change.
Parents Visiting Day
Saturday, July 23, 2022
See Full Tuition Notes & Payment Details & Discounts »
---
Still Have Questions About Camp?
See Camp in Action This Summer - Up Close and Personal with Woody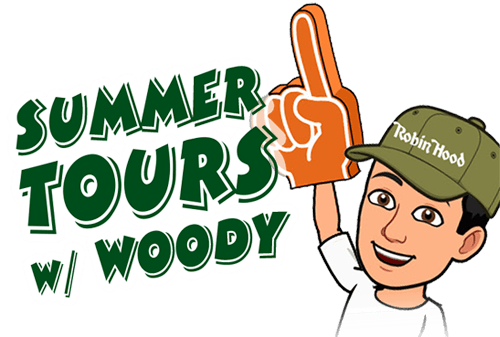 Considering summer camp for your child in the future? Come visit 'The Realm' in person to see camp in action this summer and learn about The Camp Robin Hood Experience.
A private tour with Woody, our owner/director, WHILE camp is in session is the perfect way to see and hear what makes Camp Robin Hood so special. You'll get to see activities, walk through our bunks, and make a few friends. You'll have the unique opportunity to meet our leadership team and counselors, a majority of them were campers here themselves!